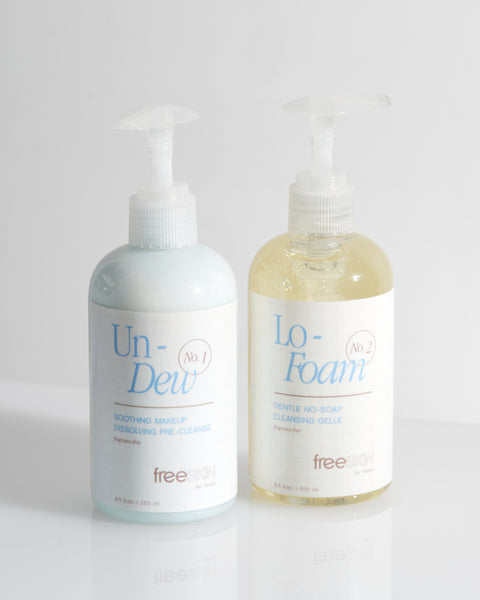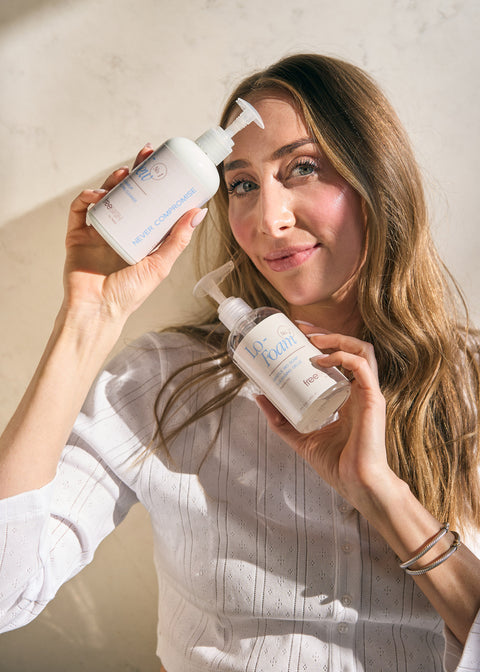 The Re-Set
Together, the way Tess intended!

The two-step, anti-inflammatory, fragrance-free and non-comedogenic cleansing system includes:
+ Un-Dew (a creamy cleanser designed for makeup and SPF removal) and
+ Lo-Foam (a mildly foaming gel cleanser). Use each cleanser individually as needed, or as a double cleanse duo for cleanest results!
Un-Dew
Apply one pump to dry hands to activate the cleanser. Apply to skin, gently massaging in circular motions, while slowly adding a small amount of water to your cleanse. Cleanse for 60 seconds and rinse well with lukewarm water. (May be used on all skin types to cleanse or remove makeup.)

KEY INGREDIENTS
Yucca | saponin-rich natural plant cleanser
Green tea (camellia oleifera) | soothing plant antioxidants calm skin during cleansing process
Cortinhib™ (Helichrysum Italicum Extract) | inhibits the visible effects of cortisol, controlling signs of aging due to stress; anti-inflammatory, anti-allergic and antimicrobial
Panthenol | provitamin B5; helps keep skin hydrated and comfortable during cleansing
Allantoin | extracted from the root of the comfrey plant, Allantoin is a non-irritating ingredient that soothes and protects the skin.
Lo-Foam

Apply 1 pump to slightly damp hands, creating a mild low foam. Gently apply to skin. Massage in circular motions for 60 seconds. Rinse well with lukewarm water. (May be used on all skin types to cleanse or remove makeup.)

KEY INGREDIENTS
Sodium Lauroyl Oat Amino Acids | exceptionally mild foaming cleanser from oats
Cortinhib™ (Helichrysum Italicum Extract) | inhibits the visible effects of cortisol, controlling signs of aging due to stress; anti-inflammatory, anti-allergic and antimicrobial
Green Tea (Camellia Oleifera) | soothing plant antioxidants calm skin during cleansing process
Panthenol | ProVitamin B5; helps keep skin hydrated and comfortable during cleansing process
Full Ingredient List

Net Weight
8.5 fl.oz

*Packaging may vary
Your Best Barrier Bundle
All your favorite freeSKIN by Tessa products in one set